American Society of International Law Annual Meeting: Reconceiving International Law: Creativity in Times of Crisis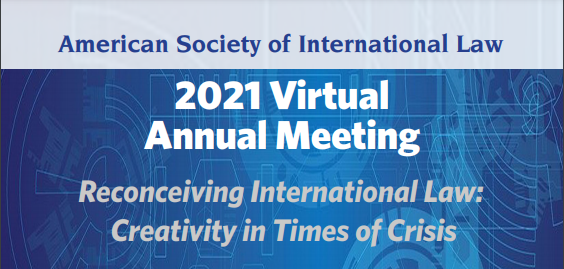 American Society of International Law Annual Meeting: Reconceiving International Law: Creativity in Times of Crisis
54
54 people viewed this event.
From March 24 – 26, 2021, the American Society of International Law will convene its 115th Annual Meeting. The Annual Meeting Committee (chaired by Simon Batifort, Christie Edwards, and Darin Johnson) welcomes ideas for sessions reflecting the meeting's theme, "Reconceiving International Law: Creativity in Times of Crisis."
Speakers include:
Abdulqawi Ahmed Yusuf (2021 Honorary Member Award)
Louise Arbour (2021 Goler T. Butcher Medal)
Bernard H. Oxman (2021 Manley O. Hudson Medal)
Gabrielle Kirk McDonald (2021 Prominent Woman in International Law Award)
Yves Daudet (2021 Grotius Lecture)
Hannah Buxbaum (2021 Grotius Lecture Distinguished Discussant)
Lucy Reed (2021 Charles N. Brower Lecturer)
In addition, registrants will be able to participate in more than 50 substantive
sessions, dozens of social and networking events, Interest Group meetings, and a wide array of career and professional development programs
More information is available on ASIL's website here: https://www.asil.org/annualmeeting.