ILW South: Democracy and Governance in the Internet Era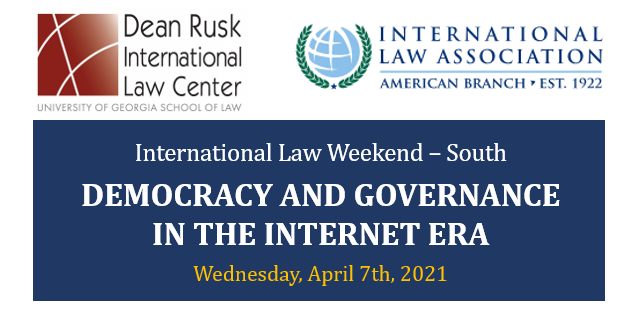 ILW South: Democracy and Governance in the Internet Era
361
361 people viewed this event.
The American Branch of the International Law Association (ABILA) and the Dean Rusk International Law Center at the University of Georgia School of Law are hosting this year's International Law Weekend: South, focused on Democracy and Governance in the Internet Era on April 7, 2021. This conference, hosted online, will address crucial and timely issues.
Session 1: Roundtable Discussion
For many, the past four years highlighted growing concerns over the U.S. national security state.  For some, the concerns focused on national security priorities, including the last administration's focus on immigration and trade.  For others, the concerns focused on increased presidential unilateralism and broad readings of executive powers over treaty withdrawal and the use of force.  For still others, the concerns focused on national security tools and how they have been used, from immigration enforcement to criminal investigations to individual sanctions.
With a new administration and a new Congress, many see this is a unique opportunity to reform the national security state.  This roundtable will consider how the current administration might rethink priorities and tools and how Congress might approach its role in facilitating and limiting presidential discretion.
Diane Marie Amann, Emily & Ernest Woodruff Chair in International Law and Faculty Co-Director of the Dean Rusk International Law Center
Elena Chachko, Lecturer on Law and SJD Candidate, Harvard Law School
Harlan G. Cohen, Gabriel M. Wilner/UGA Foundation Professor in International Law & Faculty Co-Director of the Dean Rusk International Law Center
Maryam Jamshidi, Assistant Professor of Law, Levin College of Law – University of Florida
Session 2: Civil society's role in informing, protecting the right of peaceful assembly
In July 2020, the U.N. Human Rights Committee adopted General Comment No. 37 on Article 21 of the International Covenant on Civil and Political Rights. Article 21 guarantees the right of peaceful assembly, and the GC provides an authoritative interpretation of that right as well as guidance to ensure its practical enjoyment, online and offline. The GC addresses a wide variety of assembly issues at a particularly critical time. In an effort to raise awareness of what the GC does, how it came to be, and its significance in the United States and beyond, this panel will feature experts from civil society organizations who helped inform the GC's drafting and who are now helping to see it implemented.
Moderator: Dr. Jonathan Peters, Associate Professor of Journalism at Grady College, and affiliate faculty member at the School of Law
Francesca Fanucci, Senior Legal Advisor, European Center for Not-for-Profit Law
Paulina Gutierrez, Legal Officer, Article 19
Michael Hamilton, Senior Lecturer in Public Protest Law, University of East Anglia
Daniel Simons, Senior Legal Counsel, Greenpeace
Session 3: Political Campaigns: Perspectives from Abroad
Existing rules governing political party spending and campaign finance are increasingly seen as not up to the task of effectively and transparently regulating political communications around elections. Social media algorithms that amplify outrage, rampant disinformation campaigns, and foreign interference in domestic elections all complicate what was already the challenging task of devising effective and fair regulation in this realm. This panel brings together election law scholars from around the world to discuss how their legal regimes are tackling these new and challenging problems.
Facilitator: Lori A. Ringhand, J. Alton Hosch Professor of Law and Interim Director, Dean Rusk International Law Center
Irene Couzigou, Senior Lecturer, University of Aberdeen School of Law
Yasmin Dawood, Canada Research Chair in Democracy, Constitutionalism, and Electoral Law; Associate Professor of Law and Political Science, University of Toronto Faculty of Law
Jacob Eisler, Associate Professor of Public law, University of Southampton Law SChool
Galen Irwin, Professor Emeritus, Leiden University
Graeme Orr, Professor, University of Queensland, Australia
Ciara C. Torres-Spelliscy, Professor of Law, Stetson University College of Law
Session 4: Social Media and the Language of Statehood
Scholars, journalists, and companies increasingly frame social media's decisionmaking using the language of democratic governance and human rights. From talk of "corporate constitutionalism" to Facebook's "Supreme Court," the lines between private and public "governance" are murkier than ever. This panel will assess these rhetorical moves. Are they helpful in understanding how the companies operate and how their power might be constrained? Or do they provide corporate actions with false legitimacy that undermines or overpowers calls for public regulation?
Moderator: Thomas E. Kadri, Assistant Professor of Law, University of Georgia School of Law.
Evelyn M. Aswad, Herman G. Kaiser Chair in International Law, University of Oklahoma College of Law
Elettra Bietti, SJD Candidate, Kennedy Sinclair Scholar, Affiliate at the Berkman Klein Center for Internet and Security
Brenda Dvoskin, SJD Candidate, LL.M. Advisor, Harvard Law School
David Kaye, Clinical Professor of Law, University of California, Irvine
Genevieve Lakier, Assistant Professor of Law, Herbert and Marjorie Fried Teaching Scholar
ILW South will also feature a welcome by UGA Law's Dean Peter B. "Bo" Rutledge as well as an introductory address by the President of the American Branch of the International Law Association, Leila Sadat.
Register online today!