Hot Topics: The 2020 Election and its Impact on International Trade and Investment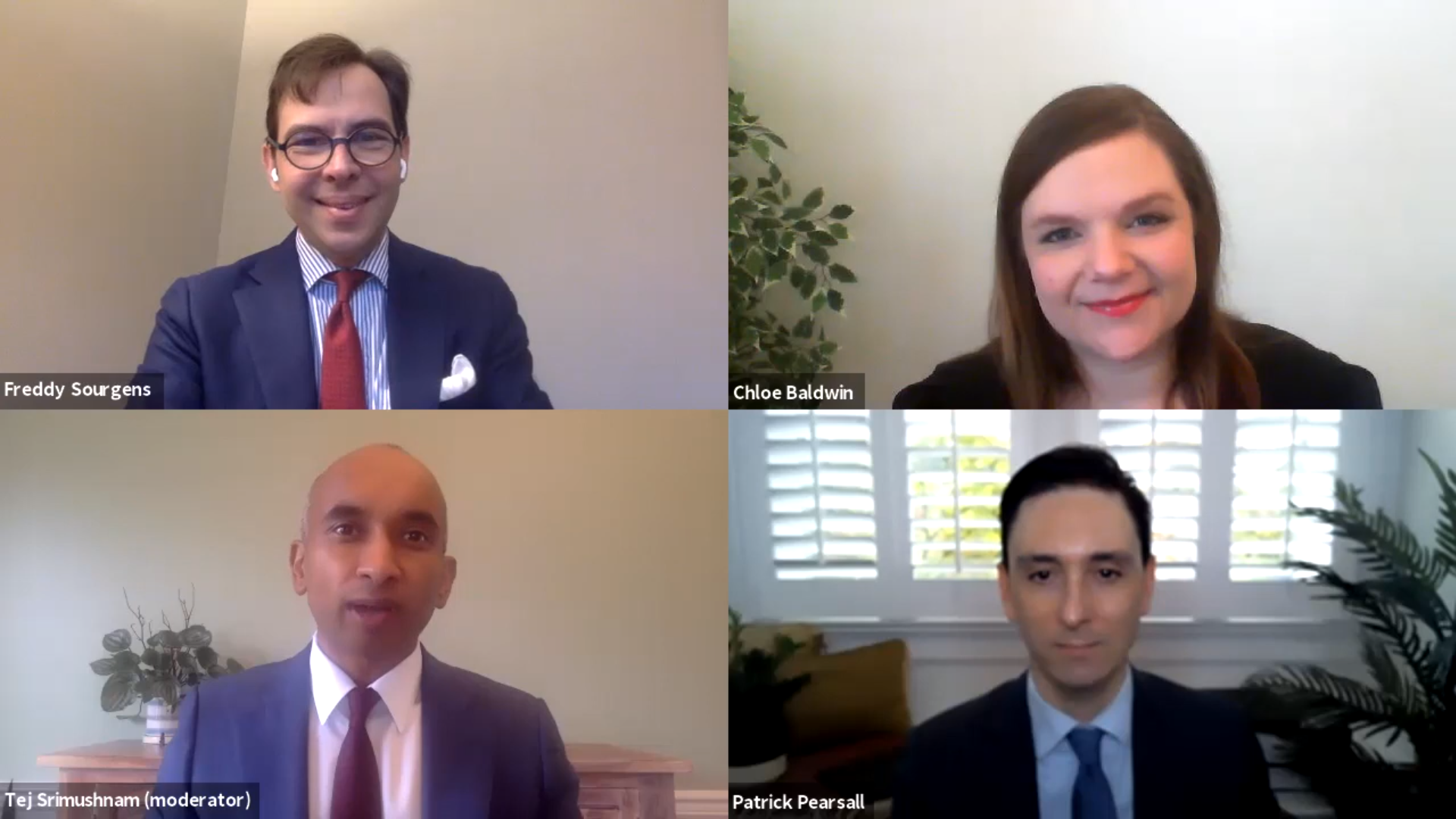 This post was authored by ABILA Student Ambassador Andrés Sellitto Ferrari, University of Pittsburgh School of Law '22. 
ILW 2020 featured a distinguished panel on "The 2020 Election and Its Impact on International Trade and Investment," which was composed of Steptoe & Johnson associate Chloe Baldwin, Allen & Overy partner and former Trans-Pacific Partnership negotiator Patrick Pearsall, and Washburn University's Professor Freddy Sourgens.
Prof. Sourgens opened the discussion, noting that the Washington Consensus is already struggling and that free trade and multilateralism is no longer a favored policy. According to Prof. Sourgens, there has been an extreme apprehension to trade as part of the America First movement under President Trump, but this does not mean that trade will be seen as a net positive in a Biden administration. Prof. Sourgens estimates that although there will be a less dramatic departure from trade, there will still be a sense of mercantilism with a softer edge for Biden. He also noted that the global trade deck has shifted, after the Global North came together in economic pain after 2008, causing a rebalancing of trade and investment, as well as the increase of South-to-South bilateral trade agreements. He established that the main question coming administrations must resolve would be whether growth fixes everything, or whether human development is worthwhile even if it inhibits growth. He believes that the world is now ready for the United States to take a more conservative role in global affairs following the Trump administration.
Furthermore, Prof. Sourgens explained that the use of the Paris Agreement's climate finance component might be the most important component to fight climate change, especially in helping states that do not have the resources to effectively fight it. To that end, he expressed his desire that a Democratic-controlled Senate adopt part of the Agreement as federal law to effectively combat climate change.
Finally, Prof. Sourgens explored the major foreign policy concern that China poses, and explained that the Trans-Pacific Partnership came out of an attempt of the United States to engage with China and to set the terms of engagement. He argued that UNCLOS ratification would be a positive development in this confrontation, in which it would be foolish not to engage, as it is impossible to achieve global goals without Chinese cooperation. He noted that China has taken on a greater global role after the U.S. pulled out of the Paris Agreement, and it is therefore important that the two countries cooperate for there to be a sense of co-leadership, bringing all other tools for dispute resolution brought to bear.
Mr. Pearsall concurred that the Washington Consensus is in distress, and that foreign direct investment as a universal good is no longer. He argued that the Biden campaign has largely not departed from orthodoxy, and has been adjacent to progressive concepts, with a renewed focus on labor, environmental standards, and diplomacy. Mr. Pearsall believes that President-elect Biden must select strong communicators in the Office of the United States Trade Representative and names as Undersecretary for Economic Affairs. He believes it will be important to reset the American workers' educational narrative of the benefits of trade and investment, in line with President-elect Biden's "Build Back Better" mantra. He further emphasized the urgency of Biden's first 100 days, communicating to allies around the issues of climate and COVID, and reengaging with NATO and the Paris Agreement. On the domestic front, Mr. Pearsall stressed that President-elect Biden must improve conditions for folks left behind in an ever-shrinking world. He also emphasized that the Biden administration will have to engage with states on climate change issues.
Regarding UNCLOS ratification, Mr. Pearsall believes it must be done. Despite a few vocal Senators preventing ratification, he nonetheless believes it can happen , as the United States has come to see UNCLOS as an important instrument in global trade. Finally, Mr. Pearsall admired the push for a multilateral investment court and stated that the debate about the court has been positive for international investment law in general.
To conclude, Ms. Baldwin discussed President-elect Biden's vast foreign relations experience, which will bring a more diplomatic focus to the fore. He noted, however, that a Biden administration will likely be more immediately occupied with domestic policies, COVID, and the state of markets. She predicted that the incoming administration will not depart from a policy of WTO reform, and that it was not yet clear that Biden will roll back tariffs on China and the European Union. According to Ms. Baldwin, investor-state disputes are pulling back around the world, and disputes are arising in ways states never anticipated. She also estimated that President-elect Biden would not favor wholesale investor-state agreements. Ms. Baldwin noted that the incoming President recognized that the world has changed from when he was vice president, but also believes that states are ready to welcome back the United States. Finally, Ms. Baldwin highlighted U.S. tensions with other states on investor-state dispute issues and questioned the viability of a multilateral investment court. Ms. Baldwin highlighted that the EU is pushing for UNCITRAL expansion but is also pulling back on investor-state provisions on the other end.