ILW 2023 Webinar Series: Customary International Law & Beyond: What Is Its Unique Role in Facilitating Global Cooperation?
*** UPDATE: We are pleased to announce that this panel will now be held in person at International Law Weekend on October 21 at 2:15 pm in NYC. Hope everyone can still join us! ***
The International Law Weekend Organizing Committee is pleased to announce that the American Branch will be hosting a Webinar Series on a variety of topics leading up to ILW 2023.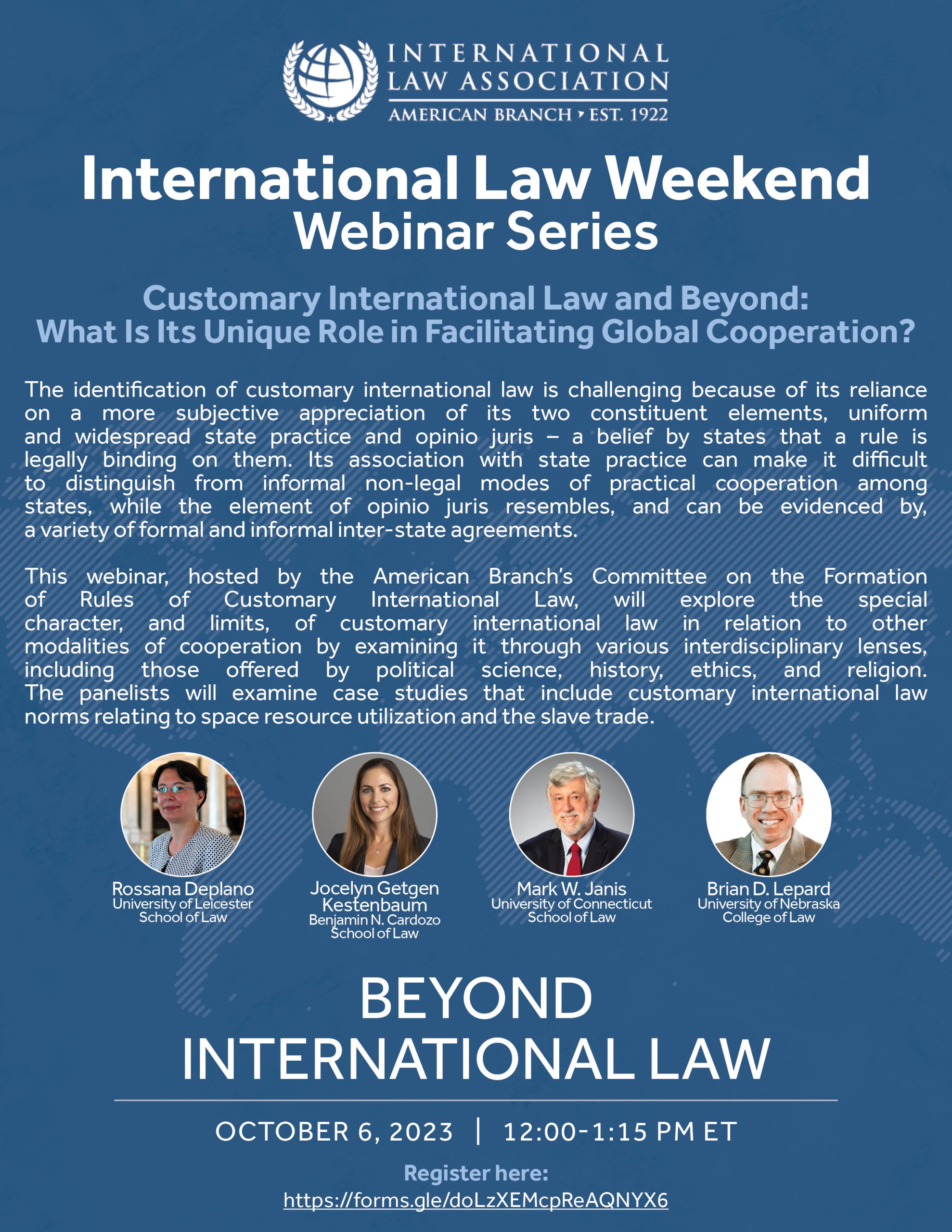 Don't miss the webinar entitled "Customary International Law & Beyond: What Is Its Unique Role in Facilitating Global Cooperation?" on October 6 at 12:00-1:15 pm ET sponsored by the American Branch's Committee on the Formation of Rules of Customary International Law.
Customary international law has long played an important role in international law, and its influence has been expanding. However, unlike treaties, for which there are clear rules delineating legal obligations, the identification of customary international law is challenging because of its reliance on a more subjective appreciation of its two constituent elements, uniform state practice and opinio juris – a belief by states that a rule is legally binding on them. Its association with state practice can make it difficult to distinguish from informal modes of practical cooperation among states that are not legal in character, while the element of opinio juris bears a resemblance to, and can be evidenced by, a variety of formal and informal agreements among states, such as U.N. General Assembly resolutions and declarations. For these reasons we must look beyond international law itself to understand customary international law's unique character and its relationship to other modes of international collaboration, including diplomacy, informal agreements, efforts to harmonize domestic laws, and global civil society initiatives. Furthermore, we must ask whether some elements of the goals of peace, justice, and human rights can be better achieved through cooperative mechanisms other than customary international law. This panel will explore the special character, and limits, of customary international law in relation to other modalities of cooperation by examining it through a variety of interdisciplinary lenses, including those offered by political science, history, ethics, and religion. In so doing, the panel will also examine case studies that include customary international law norms relating to space resource utilization and the slave trade.
Panelists:
Brian D. Lepard, Harold W. Conroy Distinguished Professor of Law, University of Nebraska College of Law (Moderator) 
Rossana Deplano, Associate Professor, University of Leicester School of Law
Mark W. Janis, William F. Starr Professor of Law, University of Connecticut School of Law
Jocelyn Getgen Kestenbaum, Clinical Associate Professor Law, Benjamin N. Cardozo School of Law
Register here: https://www.ila-americanbranch.org/international-law-weekend/