On Being a Lawyer-Diplomat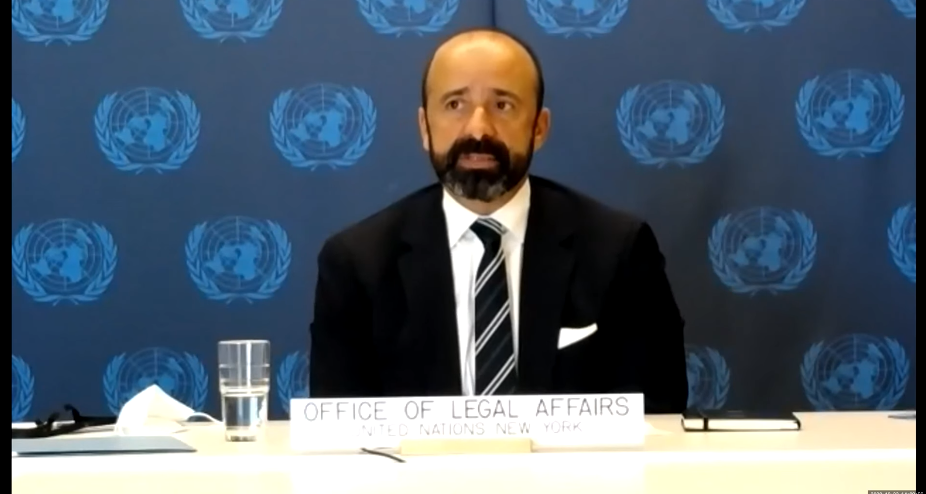 This post was authored by ABILA Student Ambassador Boutros Imad, University of Pittsburgh School of Law '22.
On Friday, October 22nd, Ambassador Katrina Cooper (Deputy Chief of Mission, Embassy of Australia in Washington, D.C.), Prof. Mohamed Helal (Visiting Associate Professor at Harvard Law School, Former Legal Counsel to the Deputy Minister of Foreign Affairs of Egypt), and Miguel de Serpa Soares (United Nations Under-Secretary General for Legal Affairs and United Nations Legal Counsel), spoke on the panel "On Being a Lawyer-Diplomat" at ILW 2020.
The panel was asked about the tasks of a lawyer-diplomat and to the experience of dealing with law and diplomacy simultaneously.
According to Mr. de Serpa Soares, international law is a component of international relations and an essential part of everyday diplomatic processes. Diplomats cannot work alone, since diplomacy is a specialized activity that involves multiple legal questions. They must meet and discuss different topics with lawyers. In his view, diplomats would be taking risks if they worked without lawyers because numerous situations require legal analysis. He noted that being a lawyer-diplomat makes him feel like he has two different hats.
Ms. Cooper considers law and diplomacy as two distinct disciplines that exist in a mutually beneficial, symbiotic relationship. International law lawyers not only need to know the law, but they must create strategic visions, know how to build constructive relationships, solve various and unique problems, and act as advocates for the rule of law. Last but not least, they must navigate a vicious cycle between legal advising and policy process. For this purpose, the following three conditions need to exist: a high degree of trust with the client, willingness of the client to accept international law advice, and the capacity on the lawyer's part to engage with the policy objectives.
In her view, Article 51 of the United Nations Charter is one of the most challenging areas of advising because it requires a great degree of skill and knowledge of law, which is especially difficult when the time frames are very short. One of the challenging situations that international lawyers face is when they provide a piece of advice that might be "awful but lawful." Overall, governments should always commit to the rule of law, particularly when tension arises between the rule of law and a certain policy. International law advisers must be advocates for the rule of law when advising the policymaker.
Mr. Helal said the exercise of law by a diplomatic officer is the exercise of politics by other means. A lawyer-diplomat is a diplomat with a particular expertise and special ability to speak a particular language. When a lawyer represents the state, the ultimate objective is to utilize the instruments available to international institutions to pursue the interest of the state. The law is an institution of power that takes different forms.
There is no single answer as to how law and diplomacy relate; rather, it all depends on the situation. For example, the diplomat's job is to utilize the law in the interest of the country they are representing. Mr. Helal described the lawyer-diplomats as bureaucrats with the duty to establish trust and credibility by acting as social engineers when engaging in long-term conventions.
When asked whether the lawyer would be helping the state in breaching the law when advocating for the state legal interest, Mr. Helal answered that the job of the lawyer is to highlight to the decision-maker the costs of violating international law. When states do violate international law, he said they tend to do so by making decisions without consulting lawyers. When asked whether the roles of lawyers and diplomats are mutually exclusive, Helal answered that they are supplementary and complementary.
The panel was asked when they realized they wanted to become diplomats. Mr. Helal knew that he was interested in public international law during law school. Surprisingly, Ms. Cooper realized she wanted to be a diplomat when she was four and knew she wanted to be a lawyer when she was seventeen. Though she did not know at the time that she would be doing this for so long, she has enjoyed it. Mr. de Serpa Soares wanted to be an archaeologist, but he followed his father's advice to enroll in law school. This is where he discovered that he was interested in international affairs. His advice for young lawyers is to get a diverse and rich experience through expanding their knowledge in various fields. He encourages them to learn how to operate in different scenarios, learn languages, and be open to other cultures.