EVENT Jan. 27: "Sanctions Against the ICC: Constitutional and International Law Issues"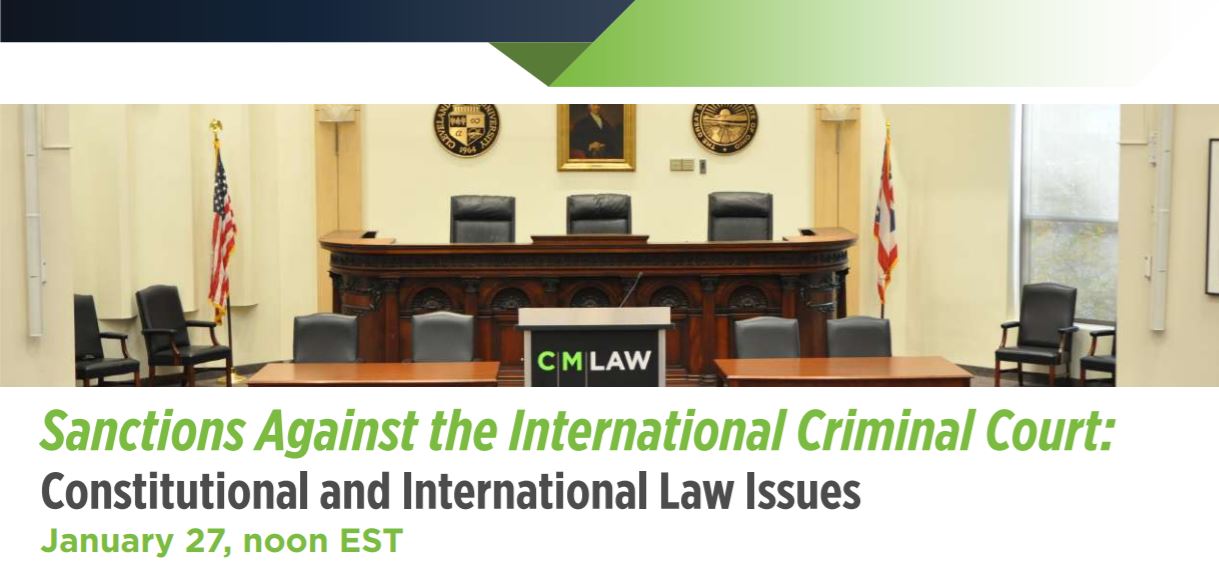 Cleveland Marshall School of Law–co-sponsored by the American Branch of the International Law Association's ICC Committee, AALS National Security Law Section, and the American Society of International Law's International Courts and Tribunals Interest Group–will host a virtual event on Wednesday, January 27, at 12 pm ET, titled "Sanctions Against the International Criminal Court: Constitutional and International Law Issues." The speakers will be:
Leila N. Sadat, James Carr Professor of International Criminal Law, Washington University School of Law
Milena Sterio, The Charles R. Emrick Jr. – Calfee Halter & Griswold Professor of Law, CSU Cleveland-Marshall College of Law
Gabor Rona, Professor of Practice, Cardozo School of Law
Scarlet Kim, ACLU
Gregory Magarian, Thomas and Karole Green Professor of Law, Washington University School of Law (moderator)
Stephen J. Rapp, Distinguished Fellow at the United States Holocaust Memorial Museum's Center for Prevention of Genocide and Senior Fellow of Practice at the Center for Law, Ethics and Armed Conflict at Oxford University; former Ambassador-at-Large, Office of Global Criminal Justice, U.S. Department of State
In June 2020, the Trump Administration announced a new sanctions regime against International Criminal Court officials on national security law grounds; in September 2020, the Administration designated for sanctions two high-level ICC officials, including Prosecutor Fatou Bensouda. The sanctions regime has been challenged in U.S. federal court by two different lawsuits, in New York and in California. In addition, the sanctions regime has provoked a sharp rebuke by the ICC itself, as well as by several other countries, international organizations, and NGOs. This panel discussion will focus on the sanctions regime which the Trump Administration imposed against ICC officials, as well as against those who provide material assistance to the court. Panelists will discuss the ongoing litigation brought against the Trump Administration on First and Fifth Amendment grounds in two different federal circuits. Panelists will also analyze both constitutional as well as international law and policy issues that are implicated by the current sanctions regime.
Register in advance here.
After registering, you will receive a confirmation email containing information about joining the webinar.
See the flyer here.