International Law Weekend
Each October, the American Branch presents International Law Weekend (ILW) in New York City. This two-and-a-half-day conference features over 30 panels, and many of the world's leading international lawyers and diplomats participate. In recent years, keynote luncheon speakers have included the president of the American Society of International Law and the Legal Adviser to the U.S. Department of State. Gala receptions have been hosted by the Finnish, Belgian, British, and Singapore missions to the United Nations.
Recent ILWs have attracted an audience of over 1,200 practitioners, academics, U.N. diplomats, business leaders, federal and state government officials, NGO leaders, journalists, students, and interested citizens. Registration for ILW is very reasonably priced as a service to our members. It is free for students. Sponsorship by law firms, universities, and interested practitioners is welcomed and recognized.
International Law Weekend 2022 was held in New York City on October 20-22, 2022. ILW 2023 will be held October 19-21, 2023.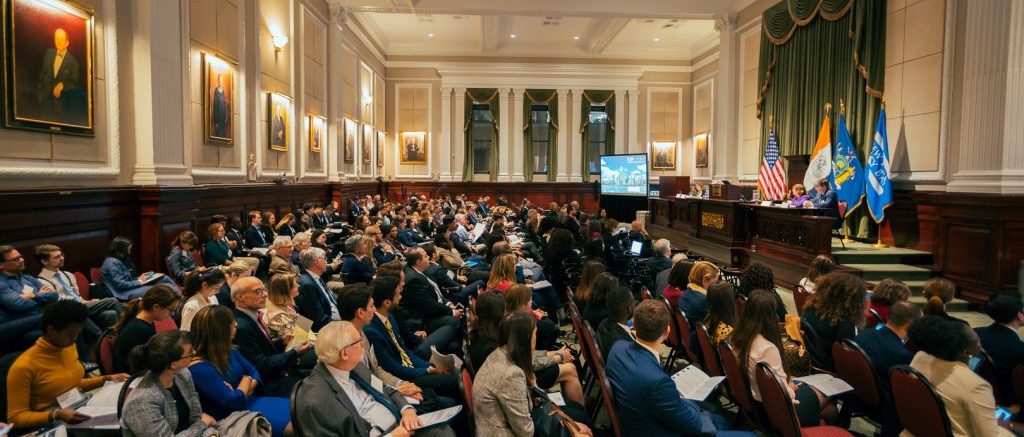 International Law Weekend 2022: The Next 100 Years of International Law
ILW 2022 was held October 20-22, 2022 in New York City.
The unifying theme for ILW 2022, held during ABILA's centennial year, is The Next 100 Years of International Law, as follows:
On the occasion of ABILA's centennial anniversary, International Law Weekend 2022 invites reflection on the past and future of international law. Which foundations from the last century of international law should remain in the next century, and which should be reimagined? Today, the international legal order faces extraordinary challenges—threats to the peace, persistent economic and social inequalities, environmental and global health risks, and populist isolationism. Yet there are also many ways that international law has succeeded over the past century in resolving differences, keeping the peace, protecting human rights, and facilitating human flourishing. Present circumstances offer the opportunity to reevaluate the core features of international law. ABILA's centennial ILW will explore the areas of international law that offer robust solutions, and those that require reinvention.
ILW 2022 explored these issues through a diverse set of engaging and provocative panels, plenary sessions, and keynote addresses. As in prior years, we had nearly 1,500 registrants. The program included a broad array of both public international law and private international law topics in each time slot, most of which offered CLE at no additional cost.
The Weekend included many networking opportunities for both professionals and students, social events, and award ceremonies, as well as the 100th Members Meeting. ILW 2022 also featured a Centennial Gala on Thursday, October 22 at White & Case LLP, witha keynote address by Judge Abdulqawi Ahmed Yusuf of the International Court of Justice.
Keynote & Plenary Speakers include:
H.E. Abdulqawi Ahmed Yusuf, Judge on the International Court of Justice
H.E. Dr. Fatou Bensouda, Gambia High Commissioner to The United Kingdom and the Commonwealth
Professor Christine Chinkin, Chair of the International Law Association
Mr. Miguel de Serpa Soares, UN Under-Secretary-General for Legal Affairs
Justice Richard Goldstone, former Justice, Constitutional Court of South Africa; former Chief Prosecutor, UN International Criminal Tribunals for the former Yugoslavia and Rwanda
H.E. Ambassador Beth Van Schaack, US Ambassador-at-Large for Global Criminal Justice
H. E. Dr. Mamadou Tangara, Minister of Foreign Affairs, the Republic of The Gambia
Dr. Christopher Ward, immediate past President of the International Law Association
Judge Ganna Yuriyivna Yudkivsk, former Judge on the European Court of Human Rights in respect of Ukraine
MJ Durkee, Co-Chair
M. Imad Khan, Co-Chair
Floriane Lavaud, Co-Chair
Carolina Arlota
Pamela Bookman
Amity Boye
LaWonda Love
Mae Nguyen
Lisa Reinsberg
Lucia Solano
Frédéric Sourgens
Milena Sterio
Isavella Vasilogeorgi
Madaline George, ILW Administrative Coordinator
Leila Sadat, ex officio
Michael Scharf, ex officio
David Stewart, ex officio
International Law Weekend 2021: Reinvesting in International Law
ILW 2021 was held virtually from October 28-30, 2021, hosted by Arbitration Place.
The conference theme was Reinvesting in International Law, as follows:
Hindered by a retreat from multilateralism, the international legal community is struggling to respond to the global challenges of our day; climate change, economic inequality, impunity for atrocity crimes, and now the pandemic.  We are at a key inflection point in crafting our response to these challenges.  We must ask ourselves, "where is the international legal order meeting expectations and where is it falling short?"  Where should we reinforce the current system and where must we develop new solutions?  How can we revitalize our global health, economic, and human rights institutions to make them more durable and impactful?  Where do we require more robust legal frameworks and where, perhaps, do we need less regulation?  How should we tailor our reinvestment in international law?
ILW 2021 explored these issues through a diverse collection of 32 engaging and provocative panels, a High-Level President's Opening Plenary, and two keynote addresses. The conference also featured the 99th Members Meeting, award ceremonies, the Second Annual Trivia Night, a Career Session, and many networking opportunities for both professionals and students. The final program can be found here.
Conference registrants and ABILA members can access all videos from ILW 2021 here. (You must be logged in to view the videos.) Recordings from ILW 2020 are available here.