International Law Weekend
Each October, the American Branch presents International Law Weekend (ILW) in New York City. This two-and-a-half-day conference features over 30 panels, and many of the world's leading international lawyers and diplomats participate. In recent years, keynote luncheon speakers have included the president of the American Society of International Law and the Legal Adviser to the U.S. Department of State. Gala receptions have been hosted by the Finnish, Belgian, British, and Singapore missions to the United Nations.
Recent ILWs have attracted an audience of over 1,200 practitioners, academics, U.N. diplomats, business leaders, federal and state government officials, NGO leaders, journalists, students, and interested citizens. Registration for ILW is very reasonably priced as a service to our members. It is free for students. Sponsorship by law firms, universities, and interested practitioners is welcomed and recognized.
International Law Weekend 2021 is scheduled for October 28-30, 2021. Register today!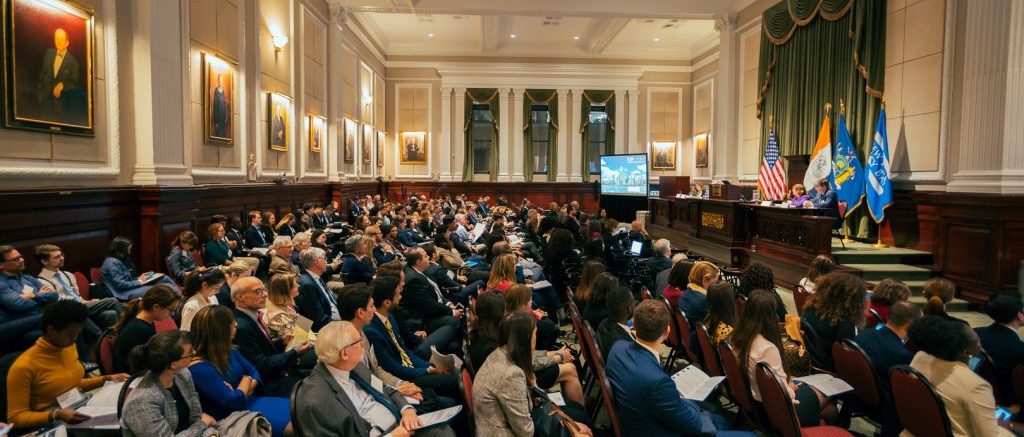 International Law Weekend 2021
ILW 2021 will be held online from Thursday, October 28 – Saturday, October 30. The theme selected for this year's conference is Reinvesting in International Law, as follows:
Hindered by a retreat from multilateralism, the international legal community is struggling to respond to the global challenges of our day; climate change, economic inequality, impunity for atrocity crimes, and now the pandemic.  We are at a key inflection point in crafting our response to these challenges.  We must ask ourselves, "where is the international legal order meeting expectations and where is it falling short?"  Where should we reinforce the current system and where must we develop new solutions?  How can we revitalize our global health, economic, and human rights institutions to make them more durable and impactful?  Where do we require more robust legal frameworks and where, perhaps, do we need less regulation?  How should we tailor our reinvestment in international law?
ILW will feature 32 panels addressing these questions, a High-Level President's Opening Plenary, two keynote addresses, the 99th Members Meeting, and many networking opportunities for both professionals and students.
Registration is now open. Early-bird rates end September 15th, so register today for the best deal!
Keynote Speakers and Plenary Panelists Include:
Mr. Pablo Arrocha Olabuenaga (Legal Adviser, Permanent Mission of Mexico to the United Nations)
Ms. Fatou Bensouda (Former Chief Prosecutor, International Criminal Court)
Mr. Nicola Bonucci (Partner, Litigation Department, Paul Hastings LLP; former Director for Legal Affairs, Organization for Economic Cooperation and Development (OECD))
Prof.Oona Hathaway (

Gerard C. and Bernice Latrobe Smith Professor of International Law, Yale Law School)

Amb. Nazhat Shameem (President, UN Human Rights Council)
Prof. Dire Tladi (Member, International Law Commission; Professor of International Law & SARChI Chair of International Constitutional Law, University of Pretoria)
Organizing Committee Members ILW 2021
Julian Arato, Co-Chair
Amity Boye, Co-Chair
Nawi Ukabiala, Co-Chair
Carolina Arlota
Pamela Bookman
Kathleen Clausen
J. Benton Heath
Gabrielle McKenzie
Milena Sterio
Frédéric Sourgens
Peter Tzeng
Isavella Vasilogeorgi
Madaline George, ILW Administrative Coordinator
Leila Sadat, ex officio
Michael Scharf, ex officio
David Stewart, ex officio
International Law Weekend 2020
ILW 2020 was held virtually from October 22-24, 2020, hosted by Arbitration Place.
International Law in Challenging Times addressed the following theme:
From shifting political alliances to changing trade and economic relations, the world around us is undergoing profound transformations. The backlash against globalization has resulted in increased suspicion of multilateralism – and escalating populism. Yet, the world is more interconnected than ever. Our economic system relies on interconnectivity. To stop the spread of the coronavirus and address climate change, international coordination is paramount. What is the role of international law in this changing and often contradictory world? What could and should international lawyers do? How can international institutions become more successful both at addressing the challenges facing them and in winning state and popular support?
ILW 2020 explored these issues through a diverse collection of engaging and provocative panels.  The final program can be found here.
Conference registrants and  ABILA members can access all videos from ILW 2020 here. (Must be logged in to view videos.)