Fordham International Law Journal Publishes Volume on ILW 2022
The American Branch is pleased to partner with the Fordham International Law Journal to publish a special issue dedicated to International Law Weekend (ILW) 2022 and the American Branch's centennial. The Journal is a student-run law journal associated with the Fordham University School of Law and is in its 47th year of publication. As one of the most competitive international law periodicals in the world and ranked 9th nationally, the Journal attracts contributions from prominent statespersons and members of the academic, legal, and political communities. The Journal's pieces have been cited in numerous U.S. federal court decisions, U.S. Supreme Court briefs and decisions, international court decisions, law review articles, and Code of Federal Regulations and American Law Reports annotations.
The Journal invited all ILW 2022 speakers to submit articles in connection with ILW 2022: The Next 100 Years of International Law. The following articles were selected for publication. They were published in Volume 46 of the Journal and are available online: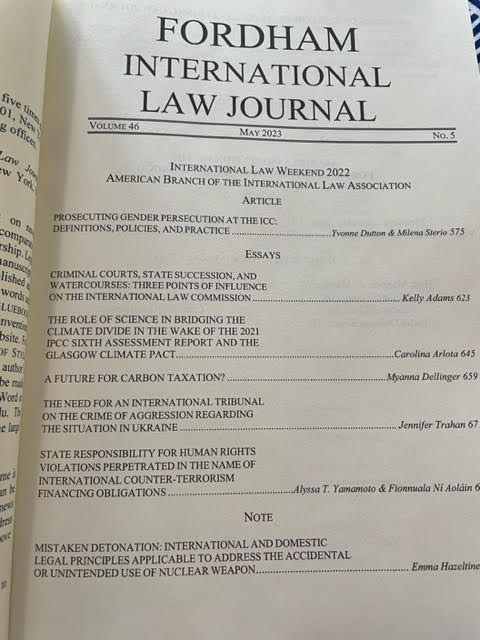 The American Branch is grateful for the opportunity to work with the International Law Journal. We would like to extend a very special thanks to the Journal's Editor-in-Chief Sean Duffy and Symposium Editor Abrahim Assaily and all the staff who worked on this volume.
The American Branch previously partnered with the International Law Students Association Journal of International and Comparative Law to publish an annual issue related to ILW entitled the International Practitioner's Handbook and is grateful for their past support. We look forward to our new relationship with the Fordham International Law Journal.