International Law Weekend 2023
Frequently Asked Questions
What is International Law Weekend?
International Law Weekend (ILW) is a three-day conference featuring presentations on a wide range of international law issues and developments of current importance.  One of the premier international law conferences of the fall season, it is hosted annually by the American Branch of the International Law Association (ABILA) in New York City. ILW includes several major addresses and plenary panels and 35 substantive panels on a wide range of public and private international law topics. To learn more about this conference, visit our website.
What is the theme for ILW 2023?
The theme for ILW 2023 is Beyond International Law, as follows:
International law is at a crossroads. While there have been many successes, the system's shortcomings still remain visible, exposed by prolonged armed conflicts, a lack of accountability for atrocities, a global pandemic followed by an economic downturn, and entrenched economic and social inequalities exacerbated by the disastrous effects of climate change. The time is ripe for the international legal community to consider what lies beyond current international law. If existing legal solutions fall short, how can international lawyers and leaders effectively harness their creativity to tackle the complex challenges of today? How does international law interface with other disciplines that also seek to promote peace and equality, such as domestic law, diplomacy, trade, social change movements, and global solidarity initiatives? How can international law adapt to become more effective in responding to the world's shifting crises? ILW 2023 encourages participants to think beyond international law.
ILW 2023 will explore these issues through a diverse set of engaging and provocative panels, plenary sessions, and keynote addresses. Each time slot will include a broad array of both public international law and private international law topics.
When is the conference?
ILW 2023 will take place on October 19-21, 2023.
Is the conference in person?
Yes. ILW 2023 will be hosted in person in New York City. Proof of Covid-19 vaccination (and booster, if applicable) will be required to enter the conference. We will also continue to monitor CDC and local guidelines on the Covid-19 pandemic.
How do I register?
Registration is now open. The early-bird registration rate will end on September 10, 2023. Some events will require separate tickets that can be purchased on the registration page. To stay up to date on ILW announcements, follow us on social media: @ABILA_official. Use the hashtag #ILW2023.
How do I earn CLE at ILW?
Panels at ILW 2023 will be approved for CLE. To obtain CLE credit, please take note of the CLE code that will be announced during the sessions you attend and then submit a signed CLE Affirmation Form (available soon) to [email protected] with the subject link "CLE". Forms must be submitted by early November 2023.
How do I submit a proposed panel for inclusion in the program?
The ILW Organizing Committee invited panel proposals to be submitted online by May 1, 2023.
How much does it cost to attend ILW?
The registration fees are as follows:
Is ILW free for students?
Yes, ILW is free for students who can demonstrate that they are currently enrolled in a degree program. As a reminder, student membership in the American Branch of the International Law Association is always free. View our membership page for more information.
Why does it cost more to register for non-members?
Membership in the American Branch comes with many benefits, including participation in ABILA and ILA Committees, mentoring opportunities, and reduced rates on regional and national conferences like ILW. We are offering a special bundle rate to non-member conference participants who can register for the conference and become an American Branch member through December 31, 2024 for the low price of $150. This is a savings of $120-145.
Do Panelists and Moderators have to register?
Yes. All panelists and moderators are required to register for ILW 2023 and pay the appropriate fee. International law Weekend provides speakers with a platform at a global and diverse conference. As in prior years, we anticipate nearly 1,500 participants, including practitioners, academics, diplomats, business leaders, federal and state government officials, NGO leaders, journalists, students, and interested citizens. Registration fees support the American Branch and allow us to continue to host world-class conferences year after year and offer our programs at a very modest cost and free for students. Non-member speakers are encouraged to take advantage of the bundled registration and membership option to join one of the most active professional organizations in our field at a reduced rate.
Can I apply for a fee waiver for financial hardship?
Yes. If you would like to attend ILW or are a speaker but cannot manage the registration fee, please email [email protected] to request a fee waiver. Waivers will be issued on a case-by-case basis.
If you have any other questions about ILW 2023, please email [email protected]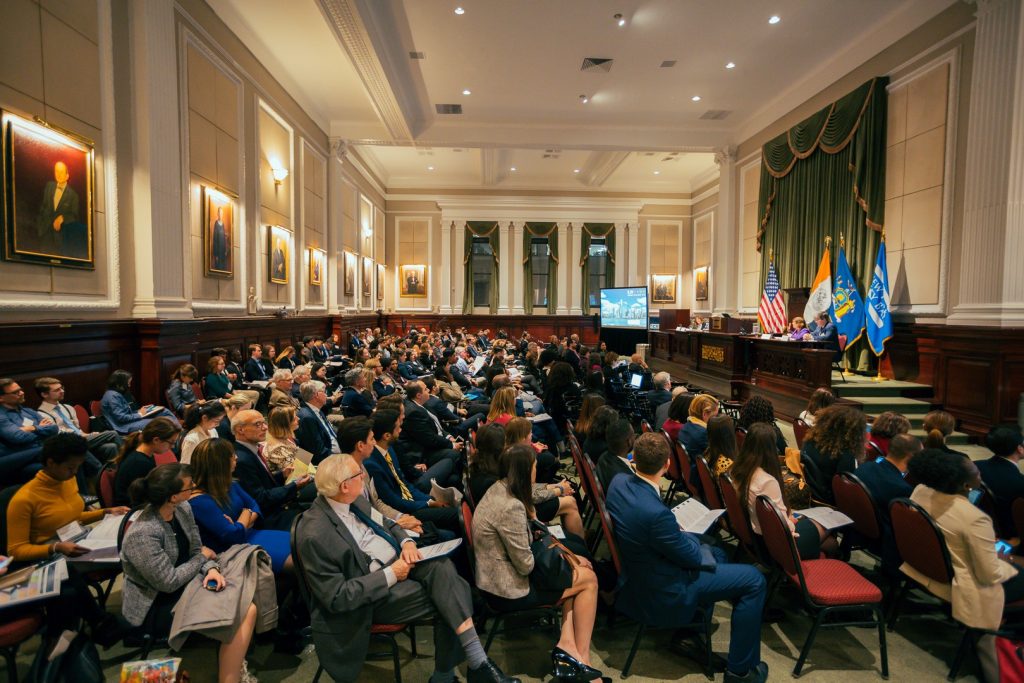 Organizing Committee Members ILW 2023
William Aceves, Co-Chair
Floriane Lavaud, Co-Chair
Milena Sterio, Co-Chair
Carolina Arlota
David Attanasio
Emily Behzadi
Amity Boye
Jovana Crncevic
Yvonne Dutton
Martin Flaherty
Rachel López
Yaw Otu Mankata Nyampong
Lisa Reinsberg
Jennifer Trahan
Federico Wynter
Alyssa Yamamoto
Madaline George, Chief Operating Officer
Leila Sadat, ex officio
Michael Scharf, ex officio