International Law Weekend 2021
Frequently Asked Questions
What is International Law Weekend?
International Law Weekend (ILW) is a three-day conference featuring presentations on a wide range of international law issues and developments of current importance.  One of the premier international law conferences of the fall season, it is hosted annually by the American Branch of the International Law Association (ABILA). ILW includes several major addresses and plenary panels and over 20 substantive panels on a wide range of public and private international law topics. Typically, ILW is hosted in New York City, but will be held virtually in 2021 due to the ongoing pandemic. To learn more about this conference, visit our website.
What is the theme for ILW 2021?
The theme for ILW 2021 is Reinvesting in International Law, as follows:
Hindered by a retreat from multilateralism, the international legal community struggles to respond to the global challenges of our day: climate change, economic inequality, impunity for atrocity crimes, and now the pandemic. We are at a key inflection point in crafting our response to these challenges. We must ask ourselves, "where is the international legal order meeting expectations, and where is it falling short?" Where should we reinforce the current system, and where must we develop new solutions? How can we revitalize our global health, economic, and human rights institutions to make them more durable and impactful? Where do we require more robust legal frameworks, and where, perhaps, do we need less regulation? How should we tailor our reinvestment in international law?
ILW 2021 will explore these issues through a diverse set of engaging and provocative panels. We plan to include a broad array of both public international law and private international law topics in each time slot.
When is the conference?
ILW 2021 will take place on October 28-30, 2021. View the program for more details.
Is the conference fully virtual?
Yes. ILW 2021 will be hosted virtually by Arbitration Place, given the continued uncertainty posed by the global pandemic. While we look forward to gathering in person again soon, we recognize that the virtual format brings the benefit of broader accessibility. We aim to make ILW 2021 the most inclusive iteration to date.
How do I register?
Registration is available here. The early-bird registration rate ended September 15th. To stay up to date on ILW announcements, follow us on social media @ABILA_official.
How do I earn CLE at ILW?
Nineteen panels at ILW 2021 have been approved for CLE. To obtain CLE credit, please take note of the CLE code that will be announced during the sessions you attend and then submit a signed CLE Affirmation Form to [email protected] with the subject link "CLE". Forms must be submitted by November 12, 2021.
How do I submit a proposed panel for inclusion in the program?
The ILW Organizing Committee invited panel proposals to be submitted online by June 30, 2021. Please note that proposals will only be accepted through the online ILW Panel Proposal Submission Form. For more information on submitting a proposal, please view the call for panel proposals here.
How much does it cost to attend ILW?

Is ILW free for students?
Yes, ILW is free for students who can demonstrate that they are currently enrolled in a degree program.
Why does it cost more to register for non-members?
Membership in the ABILA comes with many benefits, including participation in ABILA and ILA Committees, mentoring opportunities, and reduced rates on regional and national conferences like ILW. We are offering a special rate to non-member conference participants who can register for the conference and become an ABILA member thru December 31, 2022 for the low price of $110.
Do Panelists and Moderators Have to Register?
Yes. All panelists and moderators are required to register for ILW 2021 and pay the appropriate fee. International law Weekend provides speakers with a platform at a global and diverse conference. As in prior years, given the virtual format, we anticipate over 2,000 participants, including practitioners, academics, diplomats, business leaders, federal and state government officials, NGO leaders, journalists, students, and interested citizens. Registration fees support the ABILA and allow us to continue to host world-class conferences year after year and offer our programs at a very modest cost, and free for students. Non-member speakers are encouraged to take advantage of the bundled registration and membership option to join one of the most active professional organizations in our field at a reduced rate.
*Can I apply for a fee waiver for financial hardship?
Yes. If you would like to attend ILW or are a speaker but cannot manage the registration fee, please email [email protected] to request a fee waiver. Waivers will be issued on a case-by-case basis.
If you have any other questions about ILW 2021, please email [email protected]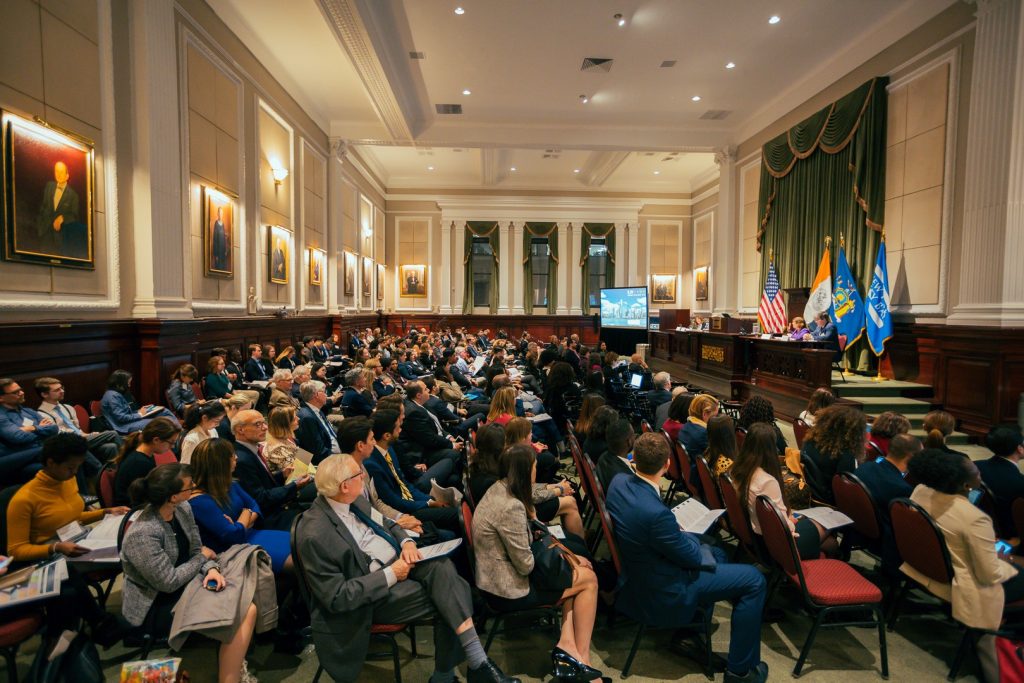 Organizing Committee Members ILW 2021
Julian Arato, Co-Chair
Amity Boye, Co-Chair
Nawi Ukabiala, Co-Chair
Carolina Arlota
Pamela Bookman
Kathleen Clausen
J. Benton Heath
Gabrielle McKenzie
Milena Sterio
Frédéric Sourgens
Peter Tzeng
Isavella Vasilogeorgi
Madaline George, Program Officer 
Leila Sadat, ex officio
Michael Scharf, ex officio
David Stewart, ex officio