Recap: International Law Weekend 2020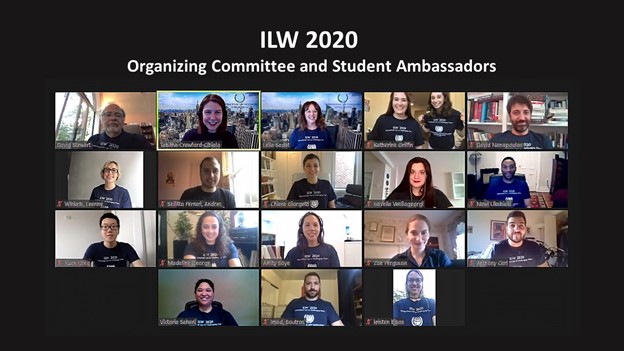 The American Branch of the International Law Association (ABILA) hosted International Law Weekend (ILW) from October 22-24, 2020, with the theme International Law in Challenging Times. This year's event coincided with the 75th Anniversary of the United Nations, on Saturday, October 24, and was a resounding success.
Due to the global Covid-19 pandemic, ILW 2020 marked the first time that the annual conference was held online. The American Branch hosted the event in collaboration with Arbitration Place using videoconferencing technology. More than 1,800 people registered for the event, surpassing registration records of past years, when the conference was held in New York City. Attendees included practitioners, academics, U.N. diplomats, business leaders, federal and state government officials, NGO leaders, journalists, students, and interested citizens.
This year's virtual conference included 27 panels, 135 panelists, two distinguished keynote speakers, and two High-Level Plenary Panels. The Weekend offered a broad array of both public international law and private international law topics, such as Standard Setting for Outer Space Activities, Novel Human Rights Crises During a Global Pandemic, and Trends and Challenges in the Enforcement of International Arbitral Awards. Eleven panels—ranging from private and public international law topics including The Challenge of Globalizing Private International Law and On Being a Lawyer-Diplomat—were designated for continuing legal education (CLE) credit, available for registrants in New York and California. CLE Credit was made possible through the sponsorship and assistance of White & Case LLP.
The conference opened  Thursday afternoon with the President's Opening Plenary Panel on International Law in Challenging Times. ABILA's President, Professor Leila Nadya Sadat, moderated a discussion between H.E. Judge Silvia Fernández de Gurmendi of the International Criminal Court (ICC), Professor Gian Luca Burci of the Graduate Institute of International and Development Studies of Geneva, and Professor, and former Ambassador David Scheffer of the Northwestern Pritzker School of Law. The panelists spoke of the challenges within institutions they had been closely associated with, especially the World Health Organization (WHO) and the ICC. They also discussed the need for reform as well as cooperation in order not only to "change the world," but in the view of Ambassador Scheffer, to "save the world" from the many pressing challenges it faces.
On Friday afternoon, Catherine Amirfar, President of the American Society of International Law and Partner & Co-Chair of the Public International Law Group at Debevoise and Plimpton, LLP, delivered a keynote address on "The Making (and Unmaking) of the International Rule of Law." She noted the importance of international law in a complex world, and urged a return to bipartisan support for it in U.S. politics.
H.E. Judge Julia Sebutinde of the International Court of Justice opened the Saturday morning program with a keynote address illustrating that the Court "is capable of handling the most challenging issues of today and tomorrow," including nuclear weaponry, cybersecurity, decolonization, and more. "Countries all over the world place their confidence in the Court to resolve their disputes," she said. "In these challenging times, the Court's enduring offer of peace through law is as important as ever." Judge Sebutinde noted that despite the wide range of global challenges facing international law, she sees a path forward. "I do not see only challenges. I also see promise," she stated. "Our responses to all of the new challenges we face, and the old ones, must be informed by the ever-evolving rules of international law that have brought so much peace and prosperity over the 75-year history of the United Nations."
Her inspiring talk was followed by the United Nations 75th Anniversary Plenary Panel. Hosted by Professor Sadat, the Plenary Panel included Ambassador Christian Wenaweser, Permanent Representative of the Principality of Liechtenstein to the United Nations;  Larry D. Johnson, former Assistant Secretary-General for Legal Affairs at the United Nations; and two distinguished members of the U.N. International Law Commission, Professors Charles Jalloh of Florida International University and Professor Patricia Galvão Teles of the Autonomous University of Lisbon.
In addition to the panels and speaking events, ILW 2020 hosted networking rooms by 14 ABILA committees, and three community networking rooms for Women and International Law, Minorities and International Law, and Young Lawyers. The virtual platform allowed individuals the opportunity to meet and converse with other participants from around the world. The conference drew scores of participants from dozens of countries.
The International Law Students Association organized a Career Networking Session for students, who attended ILW in large numbers this year from law schools around the globe. Brill Nijhoff also sponsored the conference and hosted a drop-in room for attendees, with a virtual exhibition room of its many international law titles for registrants to peruse.
Finally, in another ILW first, the weekend featured an International Law Trivia Night on Friday, October 23, hosted by Dean Michael P. Scharf of Case Western Reserve University School of Law and Madaline George of the Whitney R. Harris World Law Institute. Participants answered 26 international law questions in six categories, with one team earning first place, one earning second place, and two tying for the third place spot. Nearly 100 people from at least 17 different countries participated.
ILW 2020 was made possible by the Organizing Committee and a group of Student Ambassadors. This year's Student Ambassadors were Anthony Carl, Benjamin N. Cardozo School of Law '20; three Washington University in St. Louis School of Law students: Yuan Fang '22, Katherine Griffin '22, and Chantal Sochaczevski '22; and three University of Pittsburgh School of Law students: Boutros Imad '20, Andres Sellito-Ferrari '22, and Leanne Winkels '21.
The ILW 2020 Organizing Committee was composed of Professor William Aceves, California Western School of Law; Professor Pamela Bookman, Fordham Law School; Professor Kristen Boon, Seton Hall Law School; Amity Boye, Director of Executive Projects at White & Case LLP; M. Imad Khan, Associate at Winston & Strawn LLP; David Nanopoulos, Acting Chief of the Treaty Section, Office of Legal Affairs, United Nations; Professor Victoria Sahani, Sandra Day O'Connor College of Law; Nawi Ukabiala, Associate at Debevoise & Plimpton, LLP; Professor Leila Sadat, Washington University School of Law and President of ABILA; Professor David P. Stewart, Georgetown University Law Center and Chair of Board of Directors of ABILA; Isavella Vasliogeorgi, Legal Officer, Department of Management Strategy, Police and Compliance, United Nations; and three Co-Chairs: Professor Yvonne Dutton, Indiana University Robert H. McKinney School of Law; Professor Chiara Giorgetti, University of Richmond School of Law; and Tejasvi M. Srimushnam, Counsel for International Consumer Protection, Federal Trade Commission. The conference was also organized by Tabitha Crawford, ABILA Membership Officer; Zoe Ferguson, 2020 ILW Administrative Officer and ABILA Media Officer; and Madaline George, ILW Program Officer and Harris Institute fellow.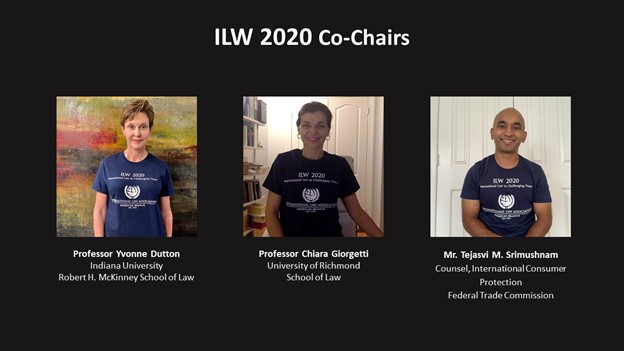 Next year ILW 2021 will be held October 28-30.  Mark your calendars now!