Space Law Committee Sponsors 15th Annual Space Law Conference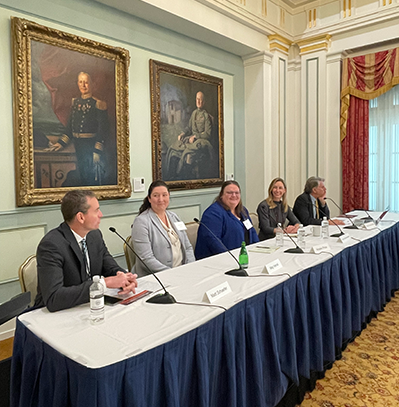 The Space Law Committee, chaired by Henry R. Hertzfeld and Matthew Schaefer, again co-sponsored the University of Nebraska's 15th Annual Space Law Conference, which was back in person this year in Washington, D.C. at the Army & Navy Club across from the White House. The conference was held on October 14, 2022.
Over 70 attendees heard from speakers and panelists discussing a variety of current issues facing the space law industry. The conference featured a joint keynote from Franceska Schroeder (Founder and Managing Member, Schroeder Law PLLC) and Dennis Burnett (General Counsel at Hawkeye 360), moderated by Professor Schaefer. Also featured were two panels: one discussing the military and national security implications posed by proximity operations in outer space, and one discussing international and domestic regulations and its effect on commercial space activities.
Following the conference, professionals and students met at The Exchange Saloon for a networking hour to foster industry connections and friendships.
The mandate of the Space Law Committee is as follows:
Sponsor at least one session devoted specifically to space law topics at the ILW held in October in NYC.
Jointly sponsor with other ABILA committees another session on topics directly relevant to space law but have clear analogies to topics of interest to other committees of ABILA. The Committees on the Law of the Seas, International Commercial Law, United Nations Law, and International Environmental Law would be obvious candidates for joint sessions.
Undertake Research Projects on Space Law Activities

A broad research/panel topic focused on unresolved issues of liability for accidents in space that would address possible changes to the current Liability Convention.
A second topic on the emerging issue of how to manage both the scientific and commercial utilization of resources in space as the technology of the 21st Century develops sufficiently to enable governments and companies to reach and use those resources that are found on the Moon, Asteroids, and other planets such as Mars.

Issue Periodic reports as appropriate based on summaries of the panel presentations and discussions, additional research by members of the Committee, and notes on issues of current importance.