Meet Our Members – William J. Aceves
In honor of the 100th anniversary of the American Branch, we are pleased to introduce you to some of the members who make our organization great.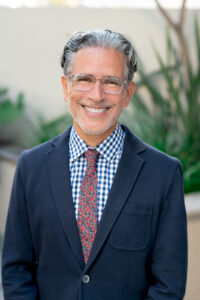 William J. Aceves is the Dean Steven R. Smith Professor of Law at California Western School of Law. He teaches International Law, Human Rights Law, Constitutional Law, Civil Procedure, and Critical Race Theory. Professor Aceves has devoted his career to the study and practice of international law. He works with several organizations on projects involving the domestic application of international law, including Amnesty International, the Center for Justice & Accountability, the Center for Constitutional Rights, and the American Civil Liberties Union. He has also represented several human rights and civil liberties organizations as amicus curiae counsel in cases before the federal courts, including the US Supreme Court.
For over 20 years, Professor Aceves has been an active member of the American Branch of the International Law Association, including the Executive Committee. He has served on several organizing committees for International Law Weekend. He has also served as a co-chair for the 2016 and 2019 International Law Weekends.
Could you tell us about some of your publications?
I have authored and edited several books, including The Anatomy of Torture: A Documentary History of Filartiga v. Pena-Irala (Brill/Nijhoff, 2007); The Law of Consular Access: A Documentary Guide (Routledge, 2010); and Lessons and Legacies of the War on Terror: From Moral Panic to Permanent War (Routledge, 2013). I am also the principal author of the influential Amnesty International USA Safe Haven report, United States of America: A Safe Haven for Torturers (2002).
Recently, I authored an article on settlements in human rights litigation ("Solving the Settlement Puzzle in Human Rights Litigation" (2022)) and a critical study of the US Constitution ("Amending a Racist Constitution" (2021)). I recently completed studies on
disinformation campaigns under international law ("Suing Russia: How Americans Can Fight Back Against Russian Intervention in American Politics" (2019)) and the Russian disinformation campaign during the 2016 U.S. presidential election ("Virtual Hatred: How Russia Tried to Start a Race War in the United States" (2019)). Because of growing interest arising out of Russia's disinformation campaign in Ukraine, the Virtual Hatred article has already been downloaded over 19,500 times.
What are you currently working on?
My current project explores the history of the Watts Treaty. In April 1992—only days before unrest would erupt in Los Angeles after the police officers who beat Rodney King were acquitted—a small group of gang leaders and local activists drafted an agreement to curtail the endemic violence that afflicted south Los Angeles. The Watts Treaty was modeled after the 1949 Egypt-Israel Armistice Agreement and included a cease-fire agreement and other confidence-building measures. Several gangs accepted the truce. By most accounts, the 1992 Watts Treaty succeeded in reducing gang violence throughout the community. I conducted extensive research on the Watts Treaty, including interviews with former gang members and community activists. My op-ed essay on the Watts Treaty appears in the L.A. Times ("How four gangs in Watts brokered a historic peace treaty" (2022)), and my full article will be published in the Harvard Civil Rights-Civil Liberties Law Review.
I remain actively involved in litigation and human rights advocacy. Throughout this work, my ABILA membership has been invaluable, generating invaluable connections and intellectual engagement.
Watch William Aceves's member profile: