To Boldly Go: ILW 2019 Panels on Space Law
By: Joshua Handelman (ABILA Student Ambassador; Washington University School of Law, JD 2021)
Space Law has existed as a distinct area of international principles since at least the Cold War era's Outer Space Treaty. However, notwithstanding the mid-80s "Star Wars" fears of orbital conflict, there just hasn't been that much human activity outside our atmosphere. Space was the limited domain of scientific research and military intelligence. Yet outer space is quickly becoming more crowded, as private industry sets its sights on the stars (or, at least, on the red planet) and as more countries join the spacefaring club. As activity in space grows, so to do the potential legal issues. At this year's annual International Law Weekend, put on by the American Branch of the International Law Association (ABILA), there were two different panels discussing Space Law (and, according to ABILA president Leila N. Sadat, there was interest enough for more). I attended in my capacity as an ABILA Student Ambassador, representing Washington University in St. Louis School of Law.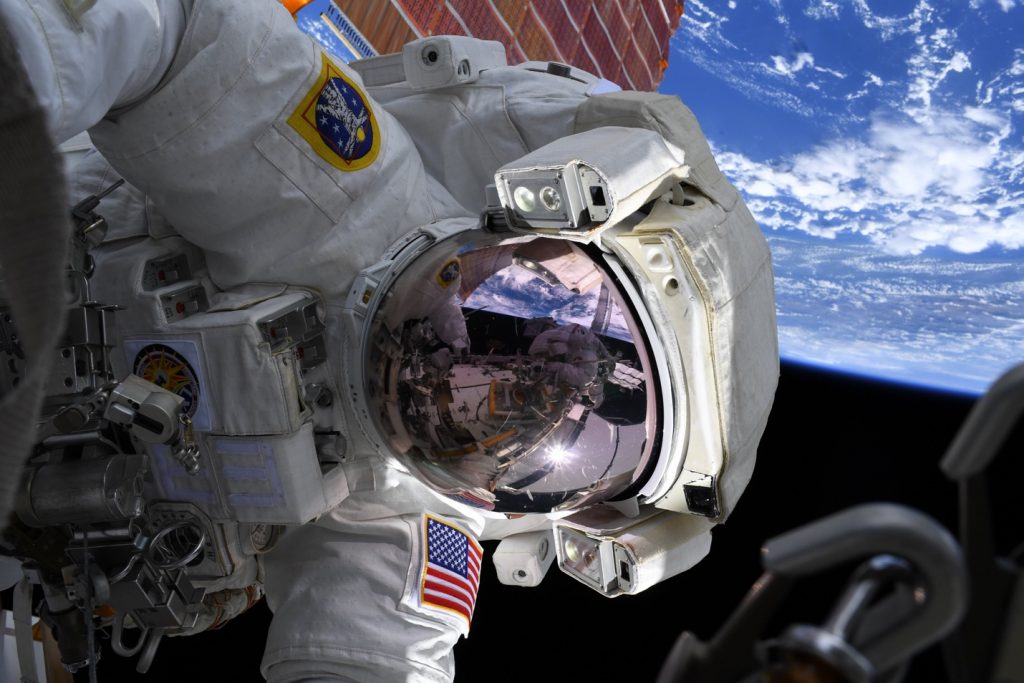 Astronaut Christina Koch working on the International Space Station. Source: NASA.
Anti-satellite (ASAT) measures was a topic of interest for the panel. Peter Hays, Senior Space Policy Analyst at Falcon Research, noted that, not that long ago, there wasn't much incentive to attack things in space. Space was a through-route for devices like missiles, but the objects that stayed up there were not of high military value. Now, however, the military rarely considers an operation without space capabilities, using satellites for such ends as weather tracking, unit positioning, timing, communications, and missile warning. The ability to destroy satellites is becoming a more strategically useful power (although in an actual attack, as an audience member noted, we may be more likely to see non-kinetic destructive powers, like radio frequency jamming or hacking).
According to Andrea Harrington, Associate Professor at the U.S. Air Force's Air Command and Staff College, the greatest threat to space objects is a failure of signaling and communication. Cold War theories of deterrence don't work well with ASAT, because there's no outer space "red phone" to call the Kremlin, or China. Sometimes, there's just basic confusion over what a particular satellite is doing. Robin Frank, former Associate General Counsel at NASA and former Assistant Legal Advisor at the State Department, noted that there is some international cooperation for space objects: the Registration Convention, administered by a U.N. organization, requires that states publicize the orbital path of objects launched from their territory, and the International Telecommunication Union allocates radio frequencies and satellite orbits. But outside of these few organizations, there's not a lot of international coordination.
So, what can International Law do? The current regime of Space Law says little about war in space – under the Outer Space Treaty, countries are not supposed to put nuclear weapons into orbit, and the moon and other celestial bodies are supposed to only be used for peaceful purposes. But there are few other limits on conflict in space. The Moon Agreement, which was an attempt to extend and clarify principles from the Outer Space Treaty, including the peaceful use of celestial bodies, hasn't been ratified by any nation actually capable of spaceflight.  University of Adelaide Professor Dale Stephens argued that terrestrial principles of international law which apply in all circumstances on Earth should also apply in space. In particular, Professor Stephens said that the Geneva Conventions and principles of customary international law, including the law of armed conflict, should apply to armed conflict in space. But there are many possible scenarios in space that don't directly translate to war on Earth. For instance, could a blockade of a satellite be covered under similar laws on naval blockades? Professor Stephens, along with several other members of the panel, is working on a manual to articulate and clarify the current regime of international law on military space operations. This project is known as the Woomera Manual.
What exists of the law must be stated more clearly, but even after clarification, there is much that the existing regime does not address about conflict in space. Brian Weeden, Director of Program Planning at the Secure World Foundation, said that the U.S. could be doing more to encourage the development of international space law, but that officials likely presume geopolitical rivals like Russia or China would just ignore regulations on conflict in space, making a push for more or clearer rules a moot effort. Ignoring the rules is a broader issue of international law, and figuring out how to enforce space rules may be as important as drafting them in the first place. As spaceflight grows, a stronger legal regime discouraging the use of force in space would better serve mankind's common interests. As Air Force Space Command's Michael Hoversten put it, "wherever man has traveled, war has followed." It remains to be seen if man's laws can keep up.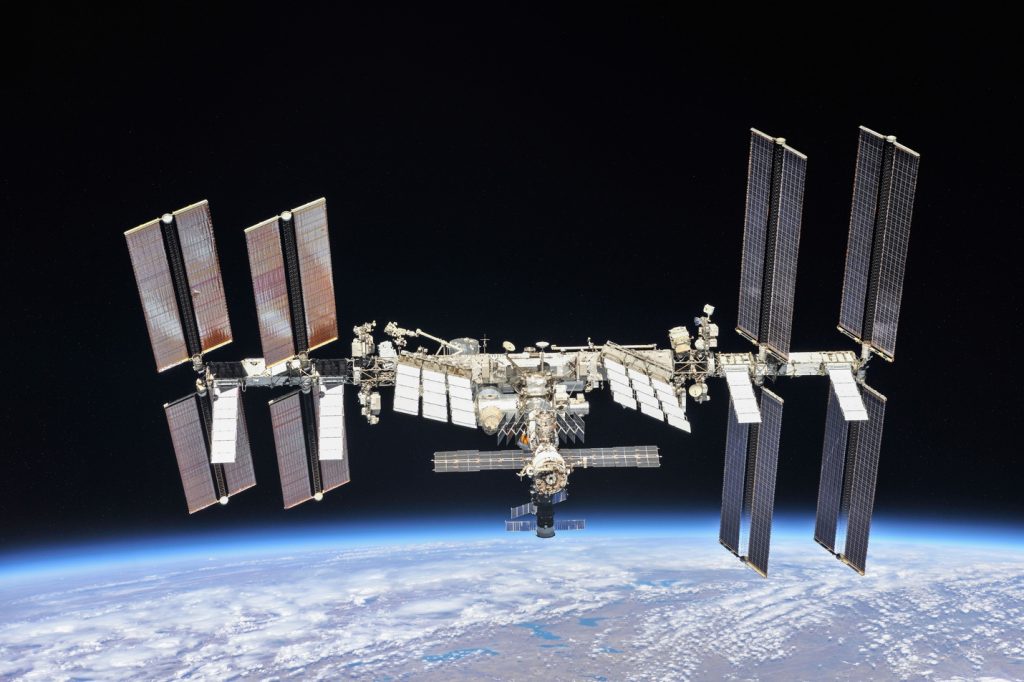 The International Space Station. Source: NASA.
The second Space Law panel, "The Resilience of the International Law of Outer Space in Light of Technology, Business, and Military Developments," continued the discussion on the state of space regulations. This panel included experts in policy, finance, and economics, and was moderated by Professor Matthew Schaefer, co-director of the Space, Cyber & Telecom program at the University of Nebraska College of Law. As discussed in the first panel, there aren't many international restrictions on the use of outer space (and, Professor Schaefer clarified, the primary treaty – the Outer Space Treaty – is really just a set of principles, in which the only negative is the restriction on nuclear weapons). But there's a much more robust regime of administrative rules at the national and organizational level. Kelsey McBarron, an associate at Schroeder Law, described the U.S. regime of national space law. There are four major components: the Federal Aviation Administration, which deals with licensing for U.S. space ports and for objects launched from and landing in U.S. territory, the Federal Communications Commission, which deals with commercial licensing for satellites, the National Oceanic and Atmospheric Administration, and administrative regulations on export controls (including offices in the Departments of State and Commerce).
But not all regulations have to be direct. Blake Gilson, an associate at Milbank, and Professor Henry Hertzfeld, Director of the Space Policy Institute at George Washington University, discussed how space activities are financed and insured. Insurance can act as a quasi-regulator – as Mr. Gilson put it, if you can't get insurance on certain things, sometimes they just don't happen. And even once funding and insurance are secured, there are special issues that arise when those objects enter space. If an insurance company pays a claim on a satellite and is entitled to recoup its costs by seizing it, how does one take possession of an object over a thousand miles above the ground?
There are many such questions about Space Law that have not yet been fully answered. That's why these panels are so exciting: the final frontier is still a young area of law, without the hardened crust of rules in other fields. As more objects – and people – launch out toward the stars, it is ever more vital to discuss how we regulate and structure our activity in space.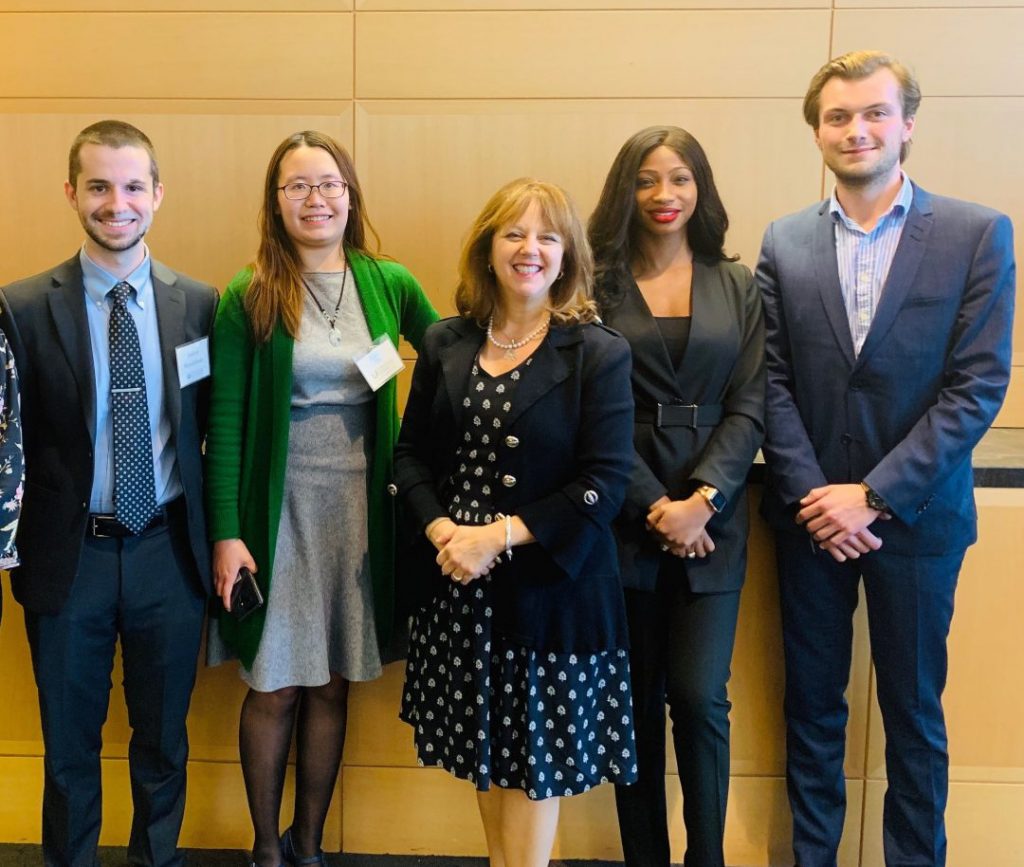 WashULaw Students with ABILA President Leila Sadat
Joshua Handelman is a law student at Washington University in St. Louis School of Law (Class of 2021) and is a 2019 ABILA Student Ambassador. He has worked as a student researcher on the Crimes Against Humanity project at the Whitney R. Harris Institute. Josh can be reached at [email protected].