Heating Up: Climate Change and the Law of the Sea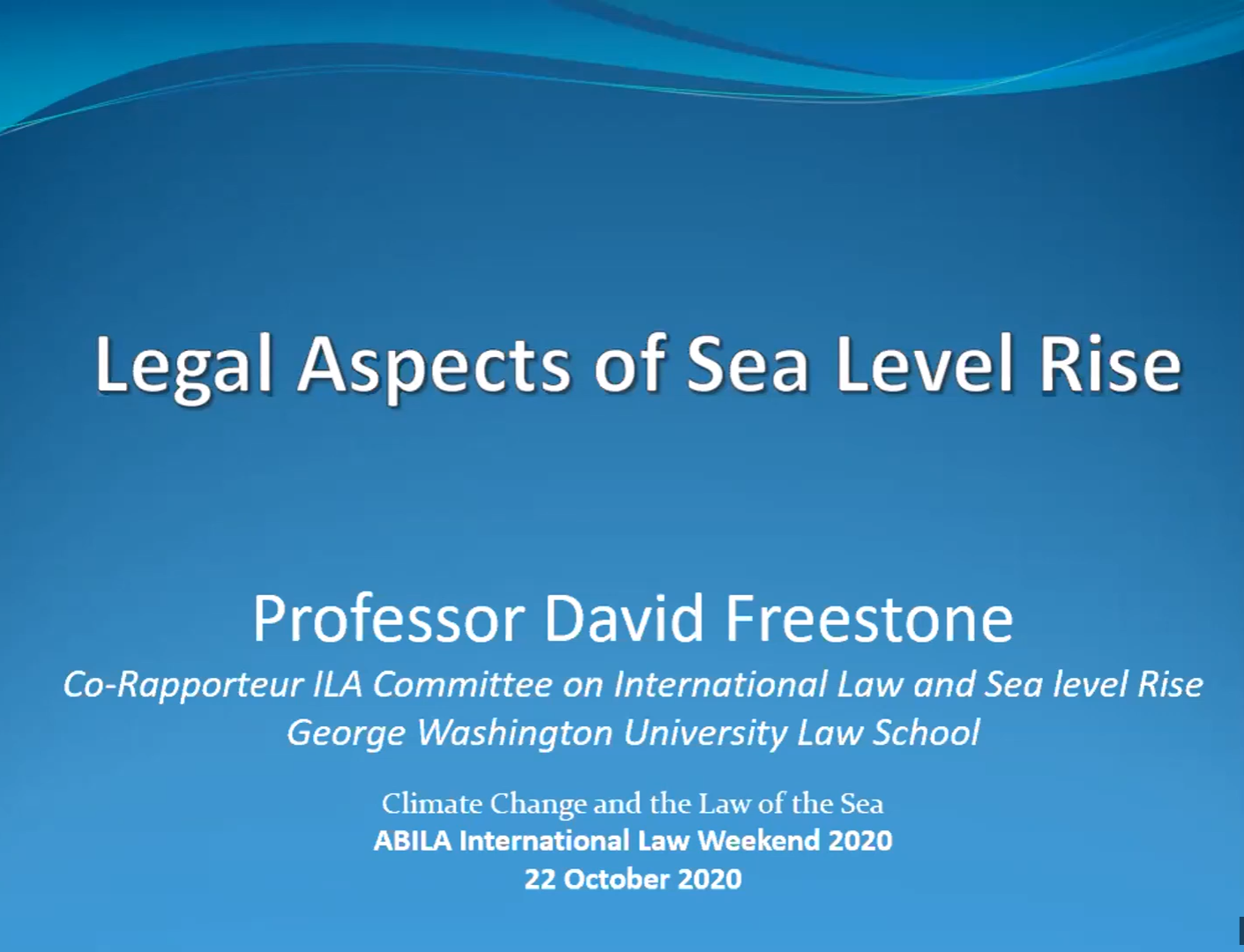 This post was authored by ABILA Student Ambassador Andrés Sellitto Ferrari, University of Pittsburgh School of Law '22.
In the midst of a severe climate crisis, a panel at International Law Weekend 2020 examined how the law of the sea responds to sea level rise triggered by climate change. The panel, "Heating Up: Climate Change and the Law of the Sea," was composed of experts on the matter: George Washington University Law School's David Freestone, National University of Singapore Centre for International Law Director Nilufer Oral, Diplomatic Academy of Vietnam's Professor Nguyễn Hồng Thao, and international arbitrator Nicola Swan, Senior Associate at Chapman Tripp.
Prof. Freestone started the conversation by establishing the hard facts of sea level rise, mentioning that there has already been 20 centimeters of change in sea level. Despite the Intergovernmental Panel on Climate Change's initial report, predicting a one-meter rise in sea level by 2098, its last report established a possible 1.1-meter increase. Prof. Freestone set the foundations for the discussion, noting the potential impacts of sea level rise, including coastal areas becoming less habitable, as well as changes to baselines and maritime limits. Furthermore, Prof. Freestone highlighted the instant displacement caused by sea level rise. He explained that despite sea level rise being slow, it is punctuated by sharp changes in way of life. Freestone stated that regional migration frameworks will be important, and that there will be obligations on host countries to respect those legal frameworks, highlighting the challenge of their implementation, as well as noting that already disadvantaged groups will be the most vulnerable.
Prof. Oral discussed shifting maritime boundaries and entitlements, involving ambulatory baselines and landward shifts. Prof. Oral noted that such impact on maritime zones is already causing changes in regulatory and enforcement competences of party-states that are affected by sea level rise. According to Prof. Oral, concrete shifts may include internal waters becoming part of territorial sea, then having the territorial sea become part of a state's exclusive economic zone (EEZ), and then such EEZ becoming high seas, therefore impacting a state's jurisdiction on those areas, from navigational regimes to loss of exclusive sovereignty rights of the coastal state to explore, exploit, manage and conserve natural resources, such as in the South Pacific Sea. Prof. Oral stressed the fact that the when the Law of the Sea Convention was negotiated in 1982, climate change was not on the radar, and therefore did not take into account sea level rise, thermal expansion, glacial melting, or ocean acidification. Prof. Oral noted that the challenge rests in bridging different regimes regulating the sea and land-based activity.
Later, Prof. Thao emphasized the issue of how states can defend their existing maritime entitlements, such as choosing measures of geoengineering for land reclamation and fortification, as in Singapore. Furthermore, Prof. Thao stressed the need for measures to maintain existing baselines by getting coastal states to recognize them as such, even as they shift due to sea level rise. This measure would minimize adverse effects of maintaining defined limits as they are now, be helping developing and vulnerable states maintain and defend rights to their defined territorial claims in the sea. Prof. Thao  explained that countries are currently classified in different geographical profiles. Addressing sea level rise will be  different depending on whether these are coastal states or archipelagos, and depending on the states' economic and technical capabilities. He added that some states amend their baselines for political reasons, such as the Philippines or Bangladesh. However, Prof. Thao noted that most states do not intend to modify their maritime baselines.
Finally, Ms. Swan discussed the legal implications of islands becoming uninhabitable. Ms. Swan stressed that populations would move before their island nations become uninhabitable, but such displacement does not affect everyone equally. She noted that many islands risk losing their statehood entirely, and that several states may go into exile instead of stateless overnight, providing the example of the governments of various countries operating from London during the Second World War. Ms. Swan also discussed the alternative of leasing or purchase of lands to move populations to other countries, and therefore prevent statelessness. She noted that there is a legal duty on other states to keep recognizing disappearing states, and that states need to comply with such obligations in good faith, because the international community cannot ask a state facing this situation for compliance. Ms. Swan highlighted that domestic courts are constrained by the same problems in international law in deciding such issues. She noted that the U.N. Refugee Convention does not allow climate migrants to be seen as refugees, and that courts in Australia and New Zealand have refused asylum to climate migrants based on the internationally recognized definitions of "refugee." According to Swan, though the risk may not be universally imminent, it is time for states and the international community to act on this matter.